STAR TYPE EXTENSION WALL ROLLER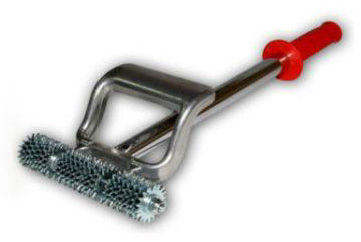 MTS-21047A
---
Great for rolling carpet, Handle extends from 17" to 27".
The star type extension wall roller is a versatile tool that excels in rolling carpets and achieving professional results. With its adjustable handle, which extends from 17 inches to 27 inches, this tool provides flexibility and convenience for various carpet rolling tasks.
Designed specifically for carpet installations, the star type extension wall roller ensures efficient and effective rolling. The adjustable handle allows users to comfortably reach larger areas without straining their backs or compromising their posture. This extended reach is particularly useful when working on expansive carpeted surfaces, making the task more manageable and time-efficient.
The star type extension wall roller is engineered to deliver optimal performance when rolling carpets. Its unique design, characterized by a star-shaped roller, provides enhanced pressure distribution and even application across the carpet's surface. This results in secure adhesion and a smooth, well-finished appearance.
Related Products
You can freely edit the content in this block through the background management system.